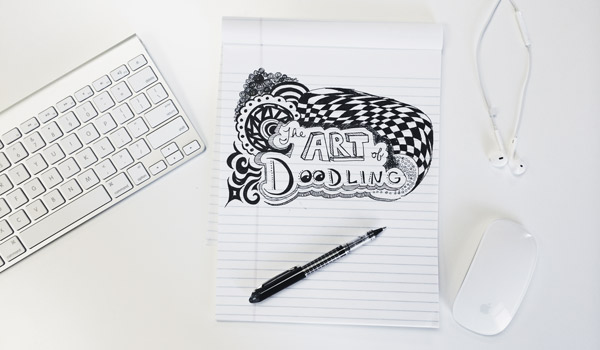 08.04.14
The Art of Doodling
Sadly, Summer break is almost over. While we, at Premier, are past the age of early morning bus rides, wrinkly clothes, and questionable school lunches, we are reminded of that sharp pang of disappointment as we came to the realization that summer was gone and school was about to start.
Summer never seemed long enough, yet a school day seemed to drag on forever. With every tick of the clock and every long history lesson, our notebooks would become a testament of the number of hours we spent expressing our boredom. Little did we know we were also expressing our creativity as well as sharpening our drawing skills. As a creative professional those doodles had more significance than we give them credit for.
So, to start off the new school year we have scoured the internet in search of awe inspiring doodles. This is what we have found.
MOLESKINE DOODLES: Imagination is Power
by kerbyrosanes
2013
Nothing beats the power of imagination.
– Approx. 6 hours of doodling
– Uni Pin Fine liner pens on a Moleskine pocket sketcbook (7 x 5.5 inches)
Lizzie Mary Cullen
Promotional Mailers 2012
A series of bespoke promotional mailers I've made. These are a few of my favorites!
Delphine Durand
2010
Illustrator Delphine Durand drew this doodle on a restaurant napkin
Doodle La by GenerallySpeaking
2011
Doodle: Random Doodle #8 (Doodlapocalipse)by RedStar94
2012
Saturnino Gomes de Oliveira
This one was a project done in conjunction with Moyara Kossmann and Saturnino Araújo Gomes de Oliveira for the event Red Bull Doodle Art 2014 in the cafeteria of the arts center UFES (Federal University of Espirito Santo).
Back to Blog