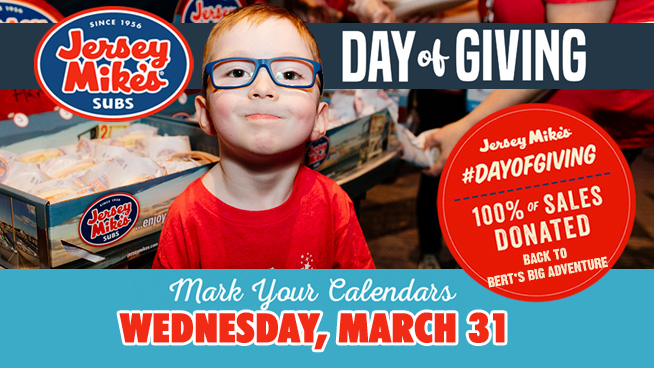 03.05.21
Jersey Mike's Day of Giving Returns on Wednesday, March 31st
March is the "Month of Giving!" Bert's Big Adventure is joining forces with 56 Jersey Mike's Subs in the Atlanta, Albany, Macon and Columbus, Ga. areas for the 11th Annual March "Month of Giving" campaign. Now through the end of March, customers can make donations to Bert's Big Adventure through the Jersey Mike mobile app or in-store.
The month-long fundraiser will culminate with Jersey Mike's "Day of Giving" on Wednesday, March 31st when local Jersey Mike's restaurants will give 100 percent of the day's sales to Bert's Big Adventure. Donations will not only fund the organization's annual all-expenses-paid, five-day journey to Walt Disney World® for children with chronic and terminal illnesses but also support their year-round programming for the 250 families that Bert's Big Adventure serves.
Want to support but can't make it to a location near your? No problem! On the "Day of Giving," Jersey Mike's Subs will offer free delivery through the Jersey Mike's mobile app, so you don't even have to leave your house or office. To locate one of the 56 participating Jersey Mike's Subs nearest you, please visit www.jerseymikes.com/mog. 
We'd love your help in spreading the word about #JerseyMikesGives! Share the news or your subs on social media by using the hashtag or tagging Bert's Big Adventure on Facebook, Twitter and Instagram.
For more information about Bert's Big Adventure and Jersey Mike's Subs Month of Giving, please visit bertsbigadventure.org.
Interested in learning more about who we are and what we do? We'd love to connect! Give us a call to chat or learn more about some of the services we offer.
Back to Blog