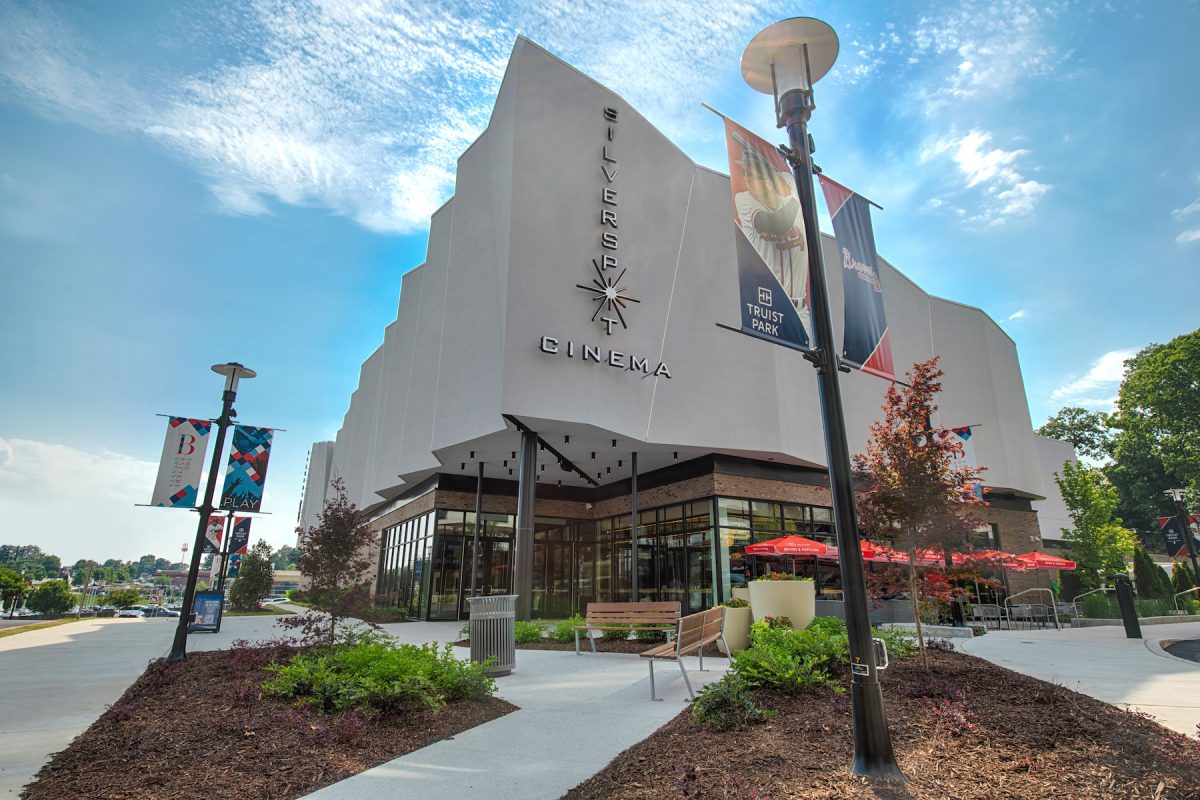 05.28.21
5 Things We Love About Silverspot Cinema
We have loved working with Silverspot Cinema over the past couple of months, helping bring awareness to their newest location in Atlanta through our public relations services. 
As they officially open their doors at The Battery Atlanta today, we wanted to share our top 5 things that we love about Silverspot Cinema – Atlanta!
Location
Silverspot Cinema has sophisticated cinemas in six other cities, including Chapel Hill, N.C., Beachwood, Ohio, Brookfield, WI and three in Florida – Naples, Coconut Creek, and Downtown Miami. They are known for their one-of-a-kind boutique cinematic experiences, providing guests with in-theater dining options as well. The Battery Atlanta is such an amazing location and we love the fact that they are bringing another wonderful option to this entertainment hub!
Interior Design
This is not just a theater, it's an experience! The lobby to the theater is absolutely beautiful, featuring a sleek standalone S Bar cocktail bar and the theaters include red, reclining chairs providing a super sophisticated experience. The space will serve as a venue for a series of event offerings from social celebrations to corporate gatherings as well. Every detail is so stunning you almost forget your in a theater!
Cinematic Experience
The 50,000-square-foot, two-story theater includes state-of-the-art auditoriums featuring 588 fully reclining seats and Barco High Contract Laser Projectors to enjoy the most vivid colors on the big screens. The theater also features Dolby Cinema Sound, providing unparalleled sound enhancements for guests to fully immerse themselves in the experience.
Curated Chef-Driven Menu
Silverspot Cinema – Atlanta also offers a fully curated chef-driven menu featuring refined and modern American cuisine, offered to guests to enjoy in-theater or in the restaurant area. The menu items range from bites and shared dishes including battered bacon, disco truffle fries, crispy chicken hot bird sliders and flatbreads to sandwiches, salads and specialty main dishes like miso glazed salmon, double short rib tacos and a toasted cauliflower and quinoa bowl along with desserts such as peanut butter pie jar and peach crisp a la mode. Additionally, Silverspot offers a standalone S Bar cocktail lounge featuring handcrafted cocktails, local craft beers and an extensive wine and spirits menu.
More than the Movies
One of the coolest parts about Silverspot is they do not only feature the latest blockbuster movies! While Silverspot will feature much-anticipated releases such as A Quiet Place Part 2 and Disney's Cruella, especially opening weekend, the sophisticated theater will also offer handpicked selections of independent films, operas and ballets, concerts, and a variety of special in-house cultural events.
Tickers are super easy to purchase as well! You can download their mobile app, visit their website at Silverspot.net or purchase at guest relations on-site. If you are looking for an extra sense of privacy and comfort, you can select pod-style seating featuring reclining love seats located in the front row of each auditorium.
Insider tip: Patrons can also earn a free movie ticket by signing up for the Silverspot SPOT REWARDS program via the Silverspot app or on the website.
For additional information about Silverspot, please visit silverspot.net/atlanta-ga.
Interested in learning more about who we are and what we do? We'd love to connect! Give us a call to chat or learn more about some of the services we offer.
photo credit: Angie Webb
Back to Blog