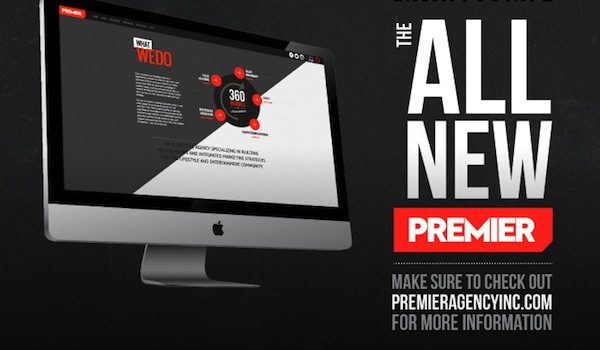 09.20.12
The All New Premier Agency
We are proud to introduce you to the all new Premier Agency – A new look, a new attitude, a new era in business. A lot goes into building a new brand from the ground up besides sweat, tears, and endless late night coffee runs. It all starts with a small detail or idea which is usually sketched out on the backside of napkin or a trusted noted pad. The idea is mysterious and generally unknown at first causing you to second guess your thoughts and designs. But something happens over the course of time during the design development process – The brand comes to life! Below is a few elements of the all new Premier Agency brand and a little meaning behind our ideas.
1) The Logo Design
Every great brand starts with a simple clean logo that is adaptable. The logo looks great in black and white and in color. We wanted to portray a slight creative edge to our look while maintaining a seriously level of professionalism. We chose the black and red color schematic because of its bold clarity and of course it suits our strong, industry leading personalities.
2) Business Cards (The Real Face of the Company)
Who would have thought separation could be as easy as a slick, all black matte with black spot color business card. Need we say more? Let the design speak for it's self…
3) The Website
We chose the one page, creative look using the parallax scrolling technique. If you are unfamiliar with parallax, just click over to the Premier Agency main site and start scrolling your heart out. Parallax design is a big trend in the web world right now which allows for a truly unique visual experience. The website took about 40 days to design and develop and was created using HTML5, CSS3, Jquery & lots of love! Hope you enjoy it.
Tell us your thoughts?
What do you think about the new brand? We love feedback…
Back to Blog