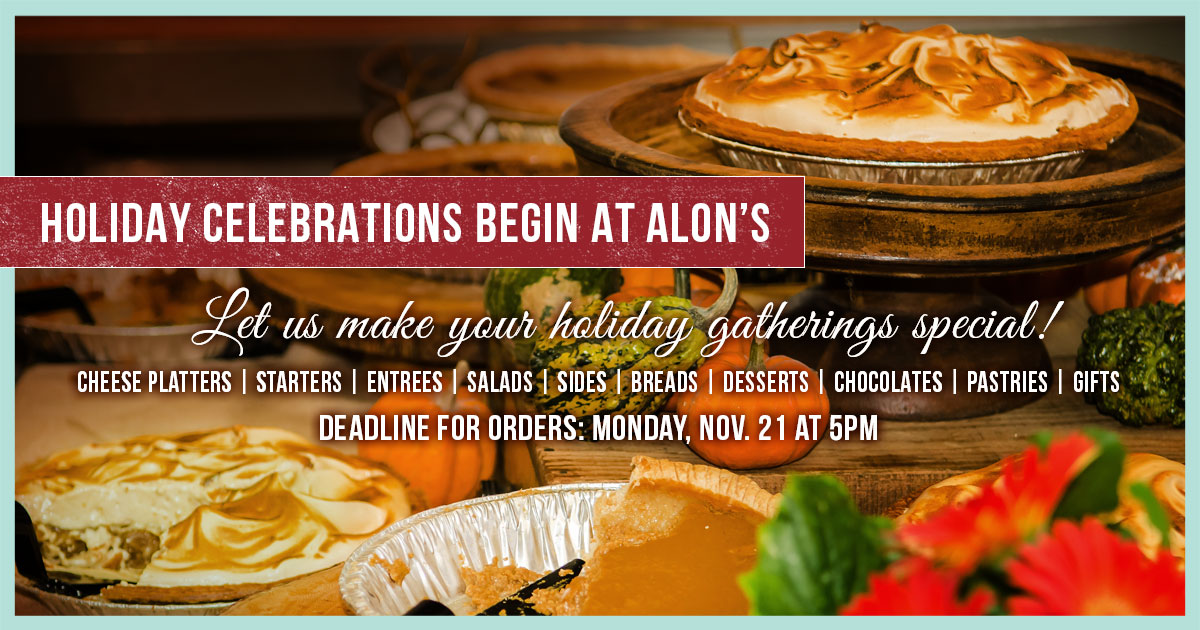 11.07.16
Celebrate Thanksgiving with a Feast from Alon's Bakery & Market
Alon's Bakery & Market is here to help with all of your Thanksgiving needs this year! Executive Chef/Owner Alon Balshan and his talented team have created a one-of-a-kind menu, featuring a wide variety of fare for every family to enjoy this holiday season. Alon's Thanksgiving menu offers gourmet platters and complete courses in addition to delicious individual sides, breads and desserts that can all be ordered separately or added on. Selections include classic turkey, beef tenderloin, cornbread, candied sweet potato soufflé, apple cranberry pie and much more.
Alon's Bakery & Market is now accepting online orders, for pick-up at their Dunwoody or Morningside locations. All Thanksgiving orders must be placed and paid for by 5 p.m. on Monday, November 21st. Orders will be available for pickup on Wednesday November 23rd from 7 a.m. – 4 p.m. only. Both Alon's Bakery & Market locations will be closed Thanksgiving Day.
Need the perfect hostess gift or holiday treat for your employees, colleagues or clients? Alon's Bakery & Market offers specialty gifts, including fresh bakery items, gift baskets and sweet confections.
To view the full Thanksgiving menu and to place your order, please visit www.alons.com or call 678-397-1781.
Back to Blog