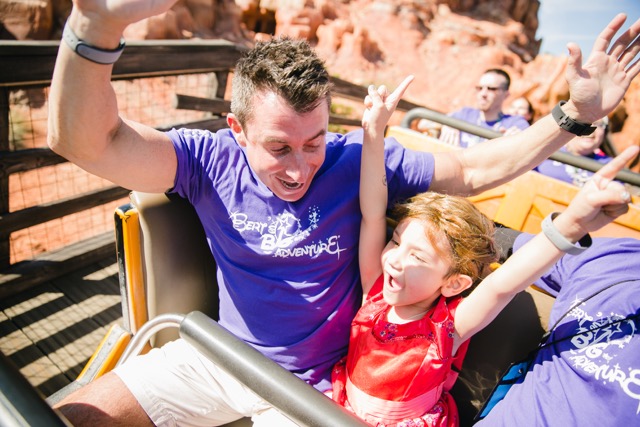 07.27.17
Bert's Big Adventure Now Accepting Applications for 2018 Families
Bert's Big Adventure, a nonprofit organization that provides a magical, all-expenses-paid, five-day journey to Walt Disney World® for children with chronic and terminal illnesses and their families, is now accepting applications and nominations for children to join the magic on the 2018 trip.
"This is such an exciting time for the organization as we are just returning from our 15th anniversary trip. We look forward to welcoming a new group of children and their families to the Bert's Big Adventure community," says Bert's Big Adventure founder and host of "The Bert Show," Bert Weiss. "Our families mean so much to us. They're treated like VIPs throughout the entire five-day trip, helping them leave their challenges behind and make lifelong memories together."
In order to qualify, children must be between the ages of 5 and 12, be diagnosed with a chronic or terminal illness, and have never been to Walt Disney World®. The family must prove financial need and live in the radio listening area of The Bert Show, a nationally syndicated morning radio show based in Atlanta, Georgia. Applications are currently being accepted from the following cities: Atlanta, GA; Brunswick, GA; Casper, WY; Charleston, SC; Dallas,TX; Dothan, AL; Fort Wayne, IN; Grand Forks, ND; Huntington, WV; Jamestown, ND; Lansing, MI; Macon, GA;  Mobridge, SD; Nashville, TN; Pierre, SD; and Savannah, GA.
Bert's Big Adventure has grown to become a support system for over 185 children and their families nationwide, providing year-round support through various programs such as Reunion Adventures, the Fairy Godparent volunteer program and additional charitable services.
The complete application and nomination forms are now available. There is also an option to anonymously nominate families. All applications must be submitted by Friday, September 8, 2017. The selection process is not based on votes, and only one nomination per child will be accepted. You don't have to be nominated to apply. Families who are selected will be notified no later than January 15, 2018.
For more information on how to nominate a child and/or family or apply for your own family, please visit https://bertsbigadventure.org/nominate-a-child-or-apply/.
Back to Blog